Are you thinking about planning your vacation to the tropical paradise, of Punta Cana? A beautiful combination of pristine sandy beaches, crystal clear water, an abundance of palm trees, and gorgeous marine life, Punta Cana is easily one of the most famous travel destinations in the world. But where is Punta Cana located?
If this is your first time visiting Punta Cana, it's essential to know the location of the area, how to go there, the amount of traveling that is required, and other important facts.
Now, let's find out all the details about the location of Punta Cana and how to get there.
Location Of Punta Cana (Where Is Punta Cana Located?)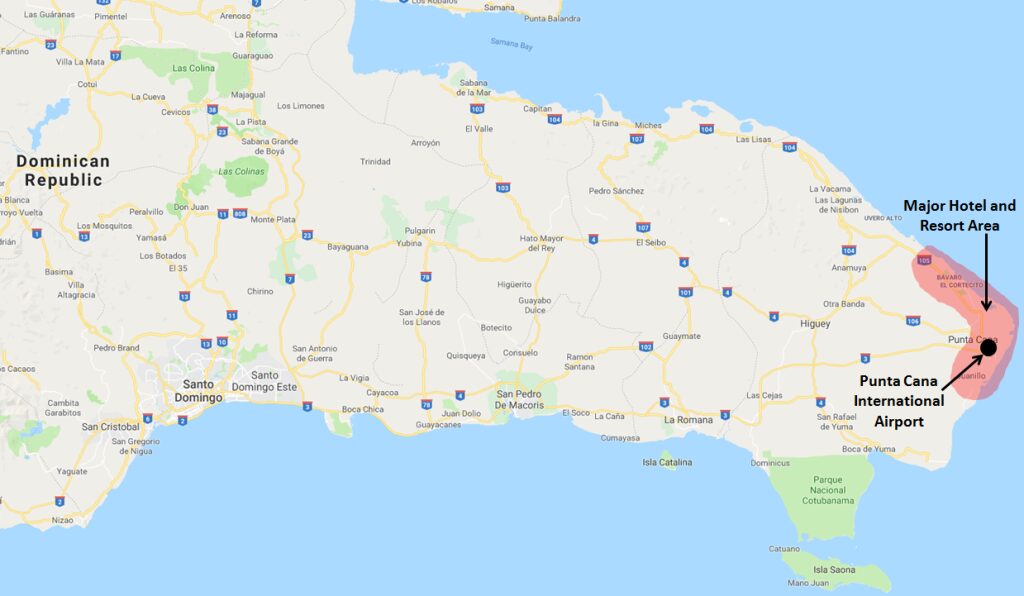 https://maps.app.goo.gl/dxKRU2i7Miov1QxK8
Latitude, Longitude of Punta Cana
Coordinates of Punta Cana in decimal degrees
Latitude: 18.5818200°
Longitude: -68.4043100°
Coordinates of Punta Cana in degrees and decimal minutes
Latitude: 18°34.9092′ N
Longitude: 68°24.2586′ W
Punta Cana is located in the Dominican Republic, a country that's a part of Hispaniola Island, occupying more than two-thirds of the island on the eastern side. The remaining one-third of the island is occupied by Haiti in the entire western zone.
Punta Cana is a region located in the easternmost part of the Dominican Republic, on a peninsula about 50 miles from Santo Domingo. It also has a resort town with the same name. It is part of the Veron-Punta municipal district, in the municipality of Higüey of La Altagracia Province facing both the Atlantic Ocean and the Caribbean Sea.
It borders the village and beach of Cabeza de Toro, the Bávaro and El Cortecito beaches to the north, and to the west with Juanillo. Together Punta Cana & the Bávaro are called "La Costa Del Coco" or the coconut coast.
How Did Punta Cana Get Its Name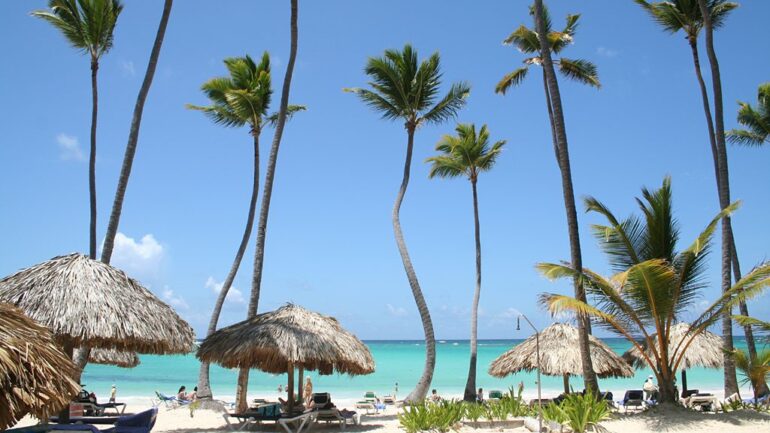 The name Punta Cana came from a Spanish term that means "tips of White Cane Palms" or "peak of the palm tree".
It is pronounced "Poontah Caanaa"
"Punta" means tip or peak which refers to the geographical position of the area at the tip of the Dominican Republic.
"Cana" means cane which refers to the cane palm trees or white palm trees that are abundant in the area.
Before being named Punta Cana it was called "Punta Borrachón" by the locals, which means "Cape Drunkard" or "Drunkard's Point". And before that, "Yauya" by the native Taino Indians.
Punta Cana In Details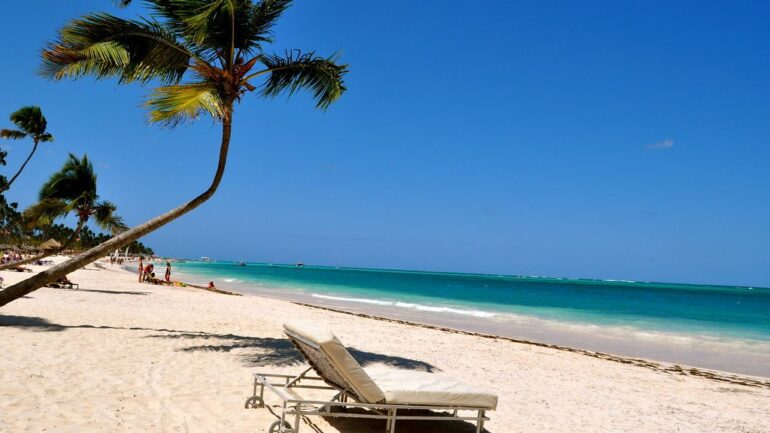 1. Parts Of Punta Cana
Punta Cana is divided into 8 smaller regions and they are,
Cape Cana
Cabeza de Toro
Punta Cana
El Cortecito
Bávaro
Arena Gorda
Macao
Uvero Alto
2. Geography
Punta Cana has an area of about 420,000 m² (approximately 1,100 acres) with 30 miles of gorgeous beach.
3. Climate
Punta Cana has a tropical wet and dry climate with an average temperature of 26°C (79°F).
The hottest season starts in April and usually lasts till November. During these days the temperatures may reach 32°C. The temperature starts to drop from December to March, and during the evening, it might drop as low as 20°C.
It is a flat landscape and the weather is pretty much constant. The beginning of June to the end of November is the hurricane season. There's not much rainfall with only two rainy seasons each year, so the summer here is pretty hot and humid.
4. Population
The population of Punta Cana is estimated to be 100,023 as of 2022 according to Geonames geographical database.
5. Language
The official language of the Dominican Republic is Spanish.
English and many other languages are also spoken in common tourist areas, resorts, shopping malls, bars, and other gathering places.
6. Currency
The Dominican peso or just "peso".
How To Travel To Punta Cana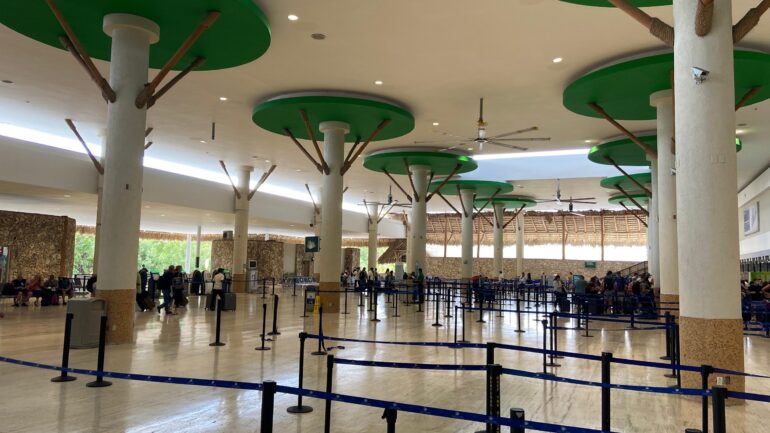 The best way to get to Punta Cana is by plane. The Punta Cana International Airport receives flights from travelers from all over the world. It is one of the busiest airports in the Dominican Republic. And in the tourist season, it gets even busier than the airport located in the capital of the country, Santo Domingo.
From the airport, you can get around by bus, taxi, and tour operator or you can also rent a car.
Also Read: Best Time To Visit Punta Cana
Places To Visit & Things To Do In Punta Cana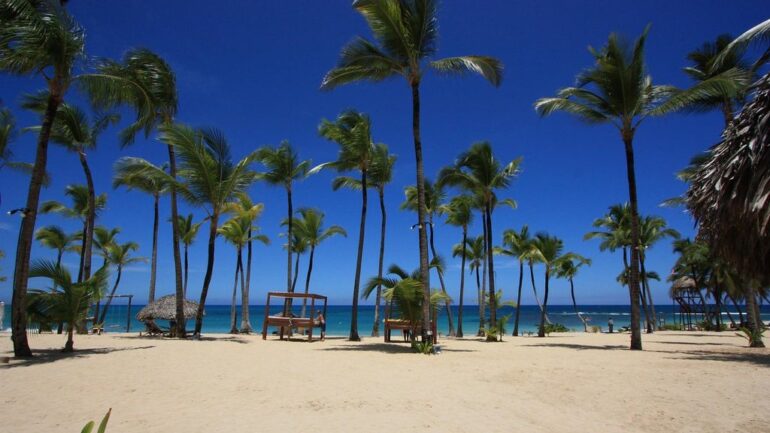 Punta Cana is a town full of luxurious all-inclusive resorts and spectacular beaches with beautiful palm trees and calms clear ocean. Most of your time will be spent exploring all these beautiful options.
However, if you have more time or want to experience as much as you can, here are some other places you can visit and activities you can do.
Places
Santo Domingo
Altos de Chavon
Bavaro Beach
Saona Island
Manati Park
Activities
Snorkeling
Windsurfing
Scuba Diving
Deep Sea Fishing
Banana Boat Rides
Swimming with dolphins
Punta Cana is an experience in itself. Now that you know all about it, don't wait to book your next flight and experience this paradise on earth.
FAQs
Q: What time zone is Punta Cana?
The whole Dominican Republic is in the Atlantic Stanford Time Zone (GMT-4)
Q: How far is Punta Cana from Santo Domingo?
180 kilometers and it takes about 2 and a half hours to get there.
Q: How many days is enough in Punta Cana?
At least 5-6 days are needed to get the whole Punta Cana experience.