Discover the different ways to get from Nassau to Exuma including flights and private boats. Find the perfect option for your next Bahamas adventure!
Nassau and Exuma are magical travel places worth the visit. People from other countries come to the Bahamas Islands for the best travel experience around the beautiful beaches, marine life, exciting activities, adventurous spots, and many more.
Nassau is the best touristy place in the Bahamas, and people stay here comfortably for a few days. However, what will you do when you wish to make a day trip to the Exumas? This article will help you regarding the best ways to get from Nassau to Exuma.
Location of Nassau and Exuma
With a chain of cays and Norman's Cay, Exuma is located on the South-east of Nassau in the Atlantic. The Exumas comprise a good number of islands and cays. Norman's Cay is the nearest to Nassau and the northernmost cay of Exuma. This cay is 45 miles away from Nassau. The distance from Nassau to Exuma varies depending on the place you want to go in Exuma.
How Far is Nassau from Some Major Places
| | |
| --- | --- |
| Places of Exuma | Distances from Nassau |
| George Town in Great Exuma | 145 miles (233 kms) |
| The famous pig beach, Exuma | 82 miles (132 kms) |
| Little Exuma | 155 miles (249 kms) |
Different Ways to Get From Nassau to Exuma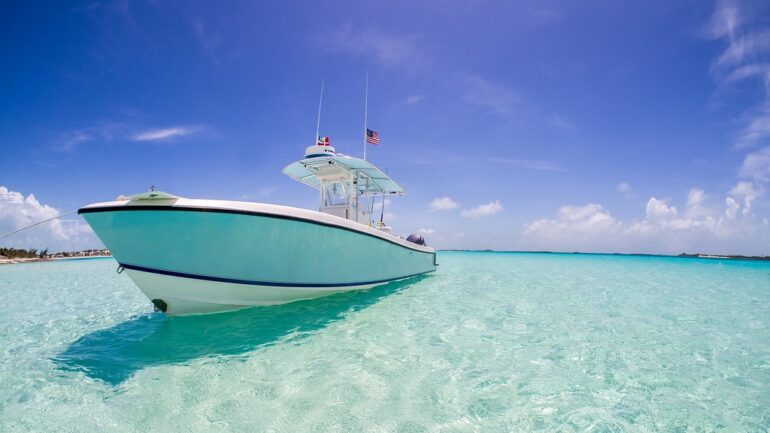 There are two most convenient ways to get from Nassau to Exuma- by plane or boat. However, taking flights is the best and most expeditious transport system.
1. Flight Method
Pig Island is called Big Major Cay. This island is home to Pig Beach, which is popularly known for swimming pigs living around the Exuma Cays. You can go there by plane and have a fantastic experience swimming with pigs in the Bahamas.
Going to Pig Beach in Exuma will take only 40 minutes by aircraft. The quick journey from Nassau to Staniel Cay Airport makes the flight easy and comfortable.
There is no airport at Big Major Cay. So, flying to this place where Pig Beach is located is impossible. You will get plenty of scheduled daily flights from Nassau to Exuma International Airport, which is located 14 kms northwest of George Town.
The direct flights from Nassau to Great Exuma take around 45 minutes, and the fare is $140. You should check the current schedules, online booking slots, and fares from the websites to make a hassle-free flight to Exuma from Nassau.
Taking a flight allows you to make a full-day trip to Pig Beach. You can enjoy excellent views of the Exuma Cays archipelago from the seats beside the windows. The air-conditioned aircraft and quick journey allow the visitors to invest valuable time on the island and enjoy unique island experiences.
2. Boat Ride Method
Another way to go to Exuma from Nassau is by taking a speedboat which may take around 3 hours. Exuma is just a short distance from Nassau but riding by boat to get to Exuma requires a long journey which might seem inconvenient for some people.
It might also seem an uncomfortable journey as the speedboats are exposed to the unpleasant wind across the open ocean, the scorching heat of the sun, and untimely rain.
Another problem with taking a speedboat journey is frequent cancellation by the speedboat operators due to adverse weather conditions or unfriendly ocean environments. These problems don't happen to flight schedules. So, the flight is the best option if you want a safe, small, and easy journey from Nassau to Exuma.
Also Read: What Language Do They Speak in the Bahamas
The Best Way to Get from Nassau to Exuma
If you value your time and enjoyment in your holiday trips, especially when it is a day trip, you must choose the flights over other transport systems. Flights from Nassau to Exuma take only around 45 minutes. However, riding by speedboat is the most convenient and only option to visit the Cay of Exuma near Nassau. Only one hour is enough to get around by speed boats operated by Nassau tour operators.
A speedboat is an uncomfortable method of transport for the long journey from Nassau to Exuma. Speedboats take more than 3 hours, but flights take only 35-40 minutes. After taking a flight from Nassau, you need to go to Staniel Cay Airport first and then take a short boat ride to Pig Beach. However, you don't have to come to Staniel Cay if you ride a speedboat from Nassau.
Unlike speedboats, there are many options to choose from. You can check more sites and spend less time on the plane. Moreover, visiting from Nassau to Exuma by speedboat takes a long time, leading to visiting a limited number of sites. Taking flight is also enjoyable for the beautiful ocean views you can see from the plane.
The air-conditioned cabins and window seats give visitors a better riding experience. Note that the speedboat tour operators cancel the trips to Exuma frequently depending on the adverse ocean and weather conditions. Sometimes they cancel the trips on a concise notice which causes extra trouble for the visitors.
Final Verdict
As visiting the Bahamas Islands for only a few days, you must know the proper ways to get from Nassau to Exuma quickly to save your valuable time on the Bahamas trip. The ideas shared in this article will help you get to Exuma more easily.
Making a day trip from Nassau to Exuma takes only a little over thirty minutes. There are many things to consider before visiting both places. Choose the most convenient and easiest way to get to Exuma from Nassau.