The splendid surroundings of Fiji have the essence of luxury and romance. Lovely weather, fresh food, crystal clear water, and luxurious accommodation have made it the best place for honeymooners.
Hundreds of resorts are out there, and you might be in a dilemma to choosing the best one to maintain privacy and amusement. Here you will get ideas about the best resorts in Fiji for couples that offer perfect accommodations.
Turtle Island Resort (Best Resorts in Fiji for Couples)
This is a private island with a house for 14 couples. Still, its gateway is an opportunity for honeymooners to satisfy their souls at their maximum and fulfill their ultimate honeymoon fantasy. You will see the neighboring Yasawa Islands and the sensational beauty of Blue Lagoon from your Fijian villa.
Your stay at one of the 14 eco-friendly private villas will give you an exotic feeling and a soothing treat to your eyes and soul. Fijian artisans built these two-room villas for the honeymooners in such a way that allows them to enjoy the tranquil water of the Blue Lagoon and the breathtaking panoramas of the Yasawa Islands.
Likuliku Lagoon Resort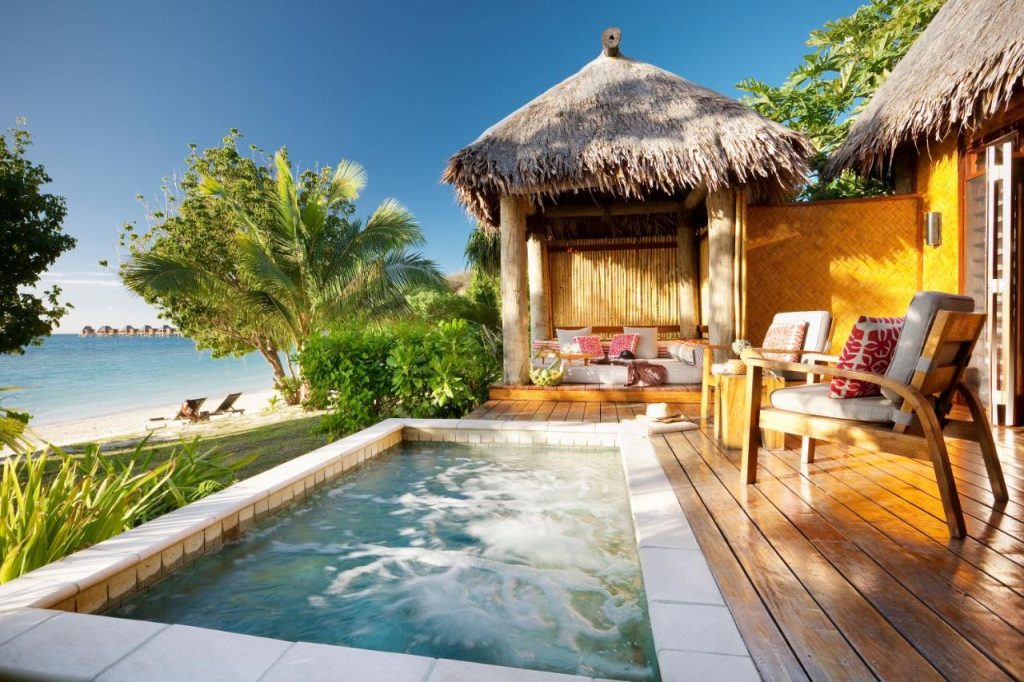 This resort is another luxury resort that offers fabulous over-water bungalows. The traditional design of this luxury Fiji resort intrigues the cultural values of the island and is attached tightly to the pleasant warmth of the Fijian community. You will get a perfect island escape from its unique structure and designs.
This resort has a personal plunge pool and a split-level architecture that offers views of the Lagoon. If you go there once, you may not want to come back leaving the resort. Instead, you may call it a heaven of relaxation and the perfect place to maintain privacy. The inescapable panoramic views of Likuliku Lagoon Resort are enough to make your trip memorable for a lifetime.
Vomo Island Resort
Vomo island resort has been spectacularly popular worldwide as an authentic private island gateway with exclusive accommodations for honeymooners. This luxury resort is surrounded by crystal clear water and a lenient white island. You can't go past this Fijian heaven.
If you plan to stay at Vomo Island Resort, you will never forget the unparallel Fijian experience and accommodation systems. You can choose among the various accommodations there, including a beachfront villa a few steps away from the soft white sandy beaches. Besides, there are hillside and garden villas near Mount Vomo. All the villas offer breathtaking scenic beauties of the beaches, hills, or gardens.
Royal Davui Island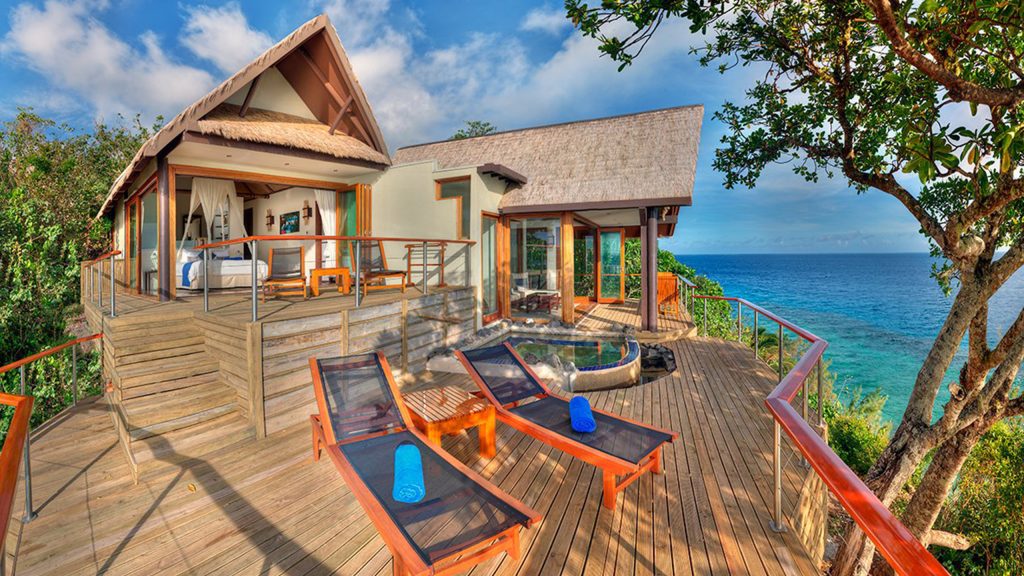 This resort has an accommodation system for a few guests but offers barefoot Fijian luxury at its best. You will get a unique experience with the adorable warmth and hospitality of the Fijian people. This adult-only resort provides a perfect island escape and honeymoon experience.
You can enjoy the absolute beauties of the Lagoon and reef system below. This resort offers a private plunge pool in the pool villas that will allow you to view picturesque Beqa Island and the expansive reef system. The premium pool villas feature exclusive designs.
Tadrai Island Resort
An ultimate luxury resort that is designed exclusively to amuse honeymoon couples. The honeymooners will feel the tranquility of this heavenly resort. The structure of the villas allows adults-only destinations with five exclusive deluxe. The guests of this resort will enjoy the peace and calmness of Tadrai Island Resort from the 100 square meter beach-front villas with spectacular artwork and unique interior decor that mirror the historical past of Fiji.
Jean-Michel Cousteau Resort
This resort was the first eco-friendly luxury resort in Fiji when it opened in 1995, but the supremacy it still holds has made it one of the best private island destinations of the South Pacific for couples. The renovation was completed in 2018 with impressive decors in 25 villas where more than 200 staff are there to assist and cater to your needs.
The spa of this resort contains effective local ingredients like honey as a good body scrub and crushed nuts. The restaurant offers sustainable open-water fish for the guests. In addition, you will meet an in-house marine biologist who operates clam-breeding and reef-generation programs. One of the best things about the staff is that they will answer all your inquiries immediately while having an ocean conversation.
Fiji Marriott Overwater Momi Bay
The only mainland Fijian resort that offers guests overwater bungalows. Unlike the world's top luxury private island resorts that require a helicopter ride or another flight, Fiji Marriott Overwater Momi Bay is a stress-free taxi ride away from the airport. The famous villas with traditional thatched roofs of this resort are a big plus.
You can expect several dining venues, room services (on demand), luxury pools, multiple pastime activities during the day, evening entertainments, and all the bells and whistles if you book your days using your card points.
Kokomo Private Island Fiji
A painless one-hour helicopter flight from Nadi International Airport or about half an hour from Suva International Airport is required if you want to experience this luxury resort. This resort's impressive white-sand beaches and lush rainforest will make your trip a lifetime memorable experience.
This resort's luxury features include multiple pools, privacy in spades, unique food and wine, etc. In addition, this resort is near one of the world's most pristine and extensive coral reefs, the Great Astrolabe Reef. If you are a veteran scuba diver or a snorkeler, book this resort in no time with your partner, as you will get all outings tailored to you that will maximize the level of adventure.
Also Read: Best Time to Go to Fiji
Closing Thoughts
Fiji is a fantastic place you can keep on your wish list, especially if you are looking for a luxury honeymoon destination. It has been a popular travel spot for newly wedded couples for years. Consider Fiji as an ideal destination when your target is to enjoy both luxury and romance. This content helps you to choose any of the best resorts in Fiji for couples you have always dreamed about to make the honeymoon days more special and memorable for your lifetime.