Wherever you plan to visit, as a tourist, you will always want to go there with cheaper flights, enjoy the best climate of the place, and have better accommodations. The best way to go to Fiji is in May when you will hit all the facilities at the best price. It is also essential to think about the crowd during the visiting month. To make the moments fruitful in Fiji, check out the necessary factors you should get acquainted with from this post.
The Best Time to Go to Fiji
You can enjoy your visit the best in Fiji during May when the flights are cheaper. The grand accommodation during this month has made this time the best time for the tourists to go there. Moreover, the chances of rainfall and high temperature are relatively low during this time, allowing you to experience a clear sky.
Another factor in visiting during May is the crowd this month is less than in the other months around the islands. However, the cost of essentials might not be significantly less than usual this month.
Places to Visit in Fiji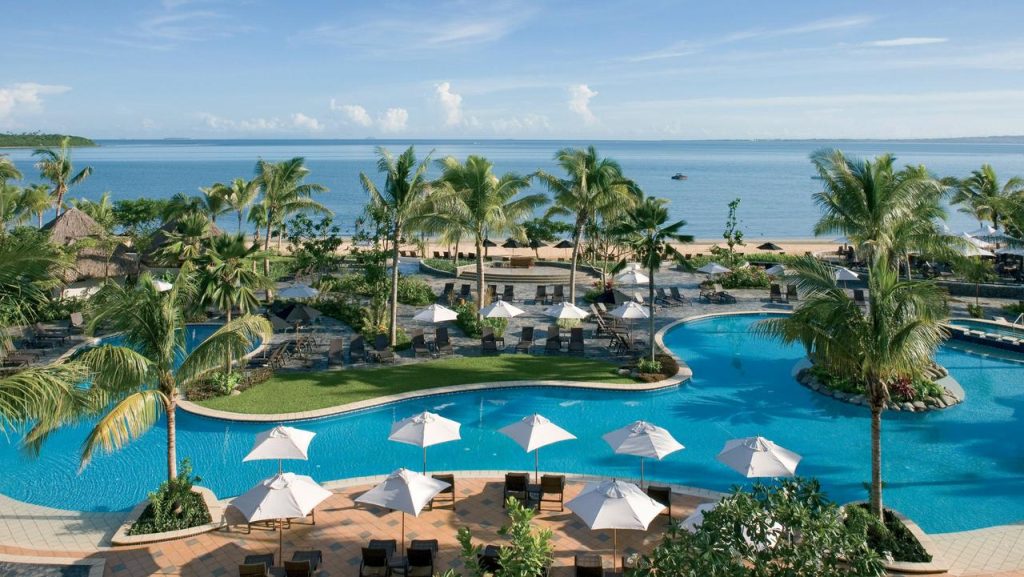 Some popular places in Fiji are the tourists' top favorites. As a new tourist, you can take ideas from the sites mentioned below to make your time fabulous there.
1. Vanua Levu
A larger island in Fiji where travelers can taste the soothing sights of the lush rainforests. You will see some uncommon birds rarely seen in other places. In addition, some reptiles and mammals live in the forest for an extended period.
2. Viti Levu
It is the largest and busiest island in Fiji. You will land at Nadi airport on Viti Levu after flying into Fiji. This island is capable of bearing the effects of climate change. You will not even notice how nicely your days can be spent on the Viti Levu island by exploring all the fantastic sights. 
3. Mamanuca Islands
A fantastic travel destination to explore crystal clear waters, coral reefs, palm-fringed sandy beaches, and many more. Tourists can visit the villages of the islands and swim in the freshwater.
4. Yasawa Islands
Yasawa islands are a must-go place for tourists with exotic natural beauty. You can enjoy great mantas there. Besides, there is an opportunity to explore splendid underwater coral gardens too.
5. Denarau Island
There are delightful hotels and resorts located on Denarau Island. Keep this place on your wishlist to enjoy a long walk, swim on a warm water beach, or play volleyball.
Flight to Fiji
The price of flights to Fiji fluctuates depending on the travelers' demands and climate conditions. Since the weather in Fiji changes throughout the year, you have to check the flight's price during the month you choose to go there. Like all other tourist destinations, visiting Fiji is expensive during the peak travel seasons and holiday periods.
June, July, August, and September are when you have to spend a more significant amount of money visiting Fiji. However, the prices are highest during December because schools are closed then, and students get enough time to plan a tour. If you want to spend the least money there, consider visiting during February, the wet season of Fiji.
Also Read: How much does it cost to go to Bali
Peak Season to Visit Fiji
June is the most popular time for travelers to visit Fiji. Travelers from around the world go there this month for the dry season. Another peak season to go there is the month of December. Though December is the wet or off-peak season, people plan to go there due to a long break of holidays. Many people also arrive on the islands of Fiji from November to April. To avoid overcrowding in that place, choose to go in February, which is the best month for sightseeing.
Pastime Activities for You in Fiji
1. Hiking
Fiji is a fantastic place for hiking, from strolling along a volcanic coastline to stepping around different tree roots up a giant mountain. You may call Fiji the Hiker's Heaven, where hikers feel safe. Finding dangerous snakes, mammals, or spiders on the trails is hard. Instead, you will enjoy the scenic beauty of the trails while hitting if you take a guide.
2. Fishing
There are many reservations open for travelers to choose anything from the massive selection of fishing Charters in Fiji. It will be the best trip for you if you enjoy finishing there. Your ideal vacation must include exploring turquoise water, discovering white-sand beaches, and enjoying quality fishing opportunities. Fiji is the best option if you are looking for an angling destination. This place is at the tourist top of the list due to its vibrant underwater world, where fishing is the best thing you have ever experienced.
3. Sailing
Don't you want to add adventure to your trip to Fiji? If yes, let the desperate wind pull you along Fiji island. With zero motor noise, the serenity of hoisting a sail is the best feeling you may ever experience. In addition, Fiji's sailing cruises are eco-friendly, which will push you to feel more interested in this activity.
FAQs
Q. Is Visiting Fiji Too Costly?
The cost of the accommodation, flights, and other essentials might vary for the Fiji tourists depending on the time you selected. Like all other places, prices fluctuate season-wise. Therefore, if you want to travel within a comparatively low budget, plan to go there between October to April.
Q: Which Month Is Risky to Visit Fiji?
The wet season of Fiji, from November to April, has been recorded as the risky season to visit Fiji because cyclones occur in the Fijian islands during that season.
Closing Thoughts
If you are so much into traveling, spend a week in Fiji to get the best experiences in the island world. There are many popular spots to explore and pastimes to enjoy, for which you will need more than one week. Fiji is a beautiful island to discover the rainforest and explore underwater activities. However, choose the best time to go to Fiji as a newbie tourist to get the best experience from the visit.