Mother nature was undoubtedly in a jolly mood while making this beautiful part of the world, and the diverse islands, natural reserves, and rare animals prove that very well. It's a dream for many people to visit Seychelles once a year and relax away from their monotonous life back at home.
However, people often get confused about choosing suitable places like hotels or resorts in Seychelles. Don't worry; I will clarify your confusion in this article by presenting some of the best places to stay in Seychelles.
When choosing a perfect place to stay in Seychelles, always remember what you need because a place suitable for others may not suit you according to your needs.
If your priority is the view of the beaches, choose hotels or resorts that provide the best view of the beaches. And, if you need a place with more relaxing facilities, then search for these criteria.
8 Best Places to Stay in Seychelles
There are many hotels and resorts with excellent facilities in the islands of Seychelles. And thor price and expense vary according to these facilities. Here are the eight best places to stay in Seychelles-
Raffles Seychelles
This is where you will find exotic private villas with a view of the immense beauty of beaches situated on the island of Praslin. This villa resort is close to the world's most beautiful beach, Anse Lazio.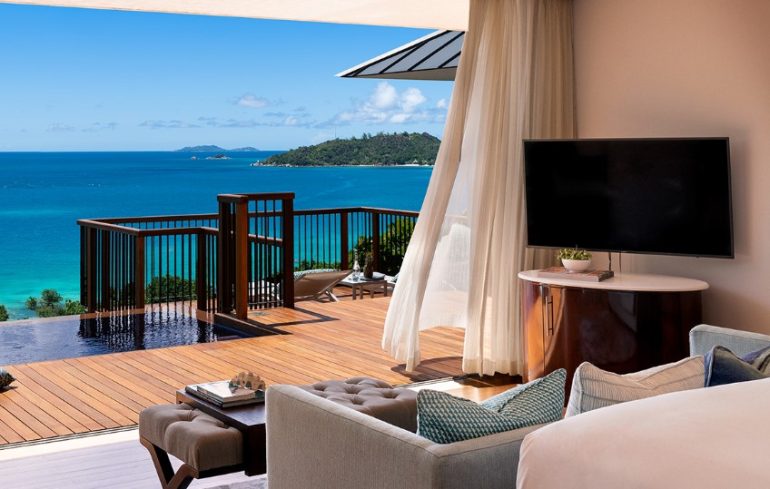 You will get a complimentary exclusive buffet breakfast and pools in private villas during your stay here. You will get to experience a luxurious lifestyle during your stay, and it will cost $1,253 per night.
Four Seasons Resort Seychelles
Four Season resort is a top-rated resort in the whole of Seychelles because of the positive reviews from those who stayed here. The beautiful villa, and amazing heaven-like beach, which looks unreal, is the main reason for its popularity.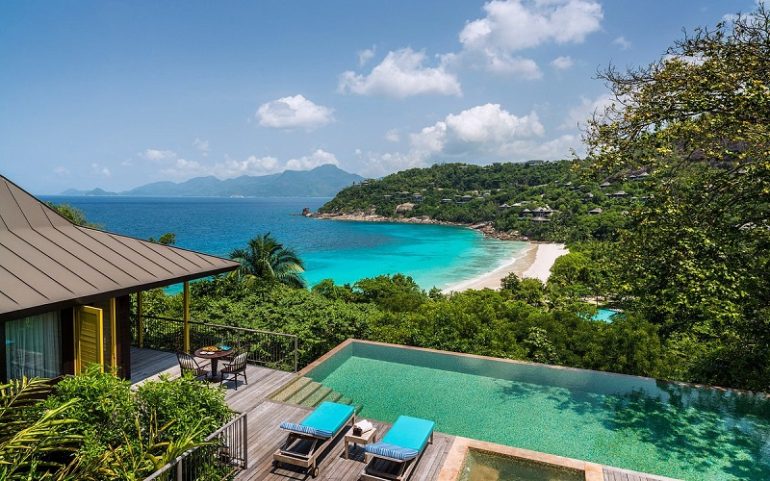 Also, you will be pleased by the hospitality and well behavior of the staff of this resort. To spend a night in this resort, you will have to pay $900 at least.
Le Repaire
If you are obsessed with ocean views, Le Repaire is the perfect place to stay for you. This resort features a small outdoor pool attached to the classic rooms. Swimming in these pools, you can enjoy the insanely beautiful view of Praslin Island and La Digue island.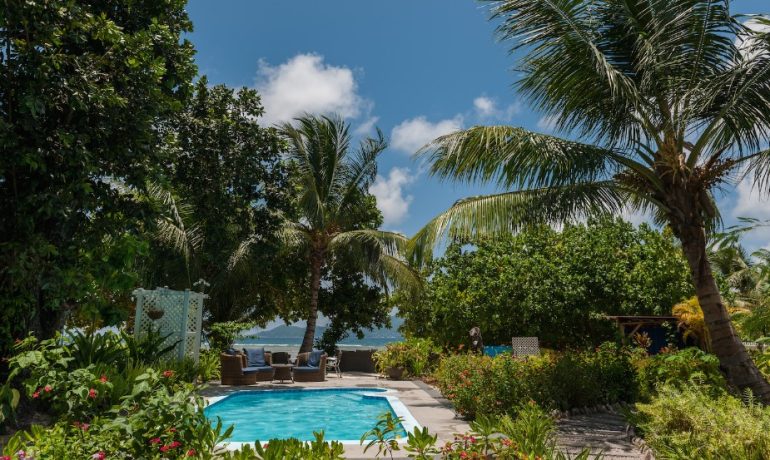 One night stay in this boutique hotel and restaurant will cost you a minimum of 220 USD Dollars.
Constance Ephelia
Constance Ephelia is located on the beach of Mahe Island. It is close to the national botanical gardens of Seychelles, so it is a suitable place to stay if you are traveling with kids.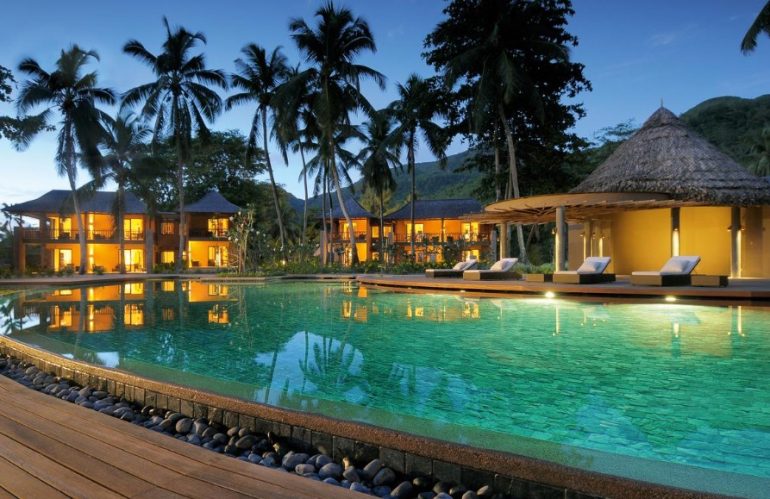 You can get a relaxing spa in this resort along with free wifi service, breakfast, and air-conditioned rooms. The price of rooms for a one-night stay starts from $504.
Constance Lemuria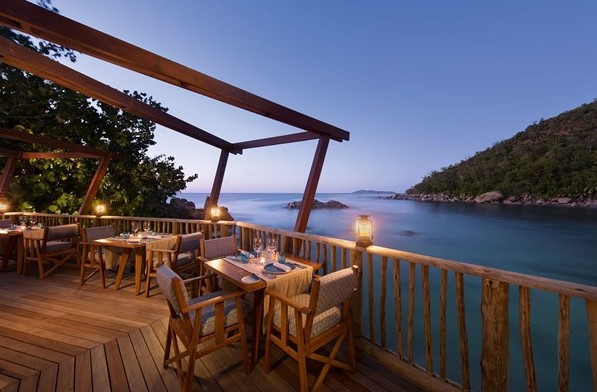 The price of one room for a night's stay starts from $1,012. This resort is quite expensive because of the royal facilities they provide to the customers. You will be satisfied by the cleanliness, staff service, amenities, and eco-friendliness of this luxurious hotel and resort.
Paradise Sun Hotel Seychelles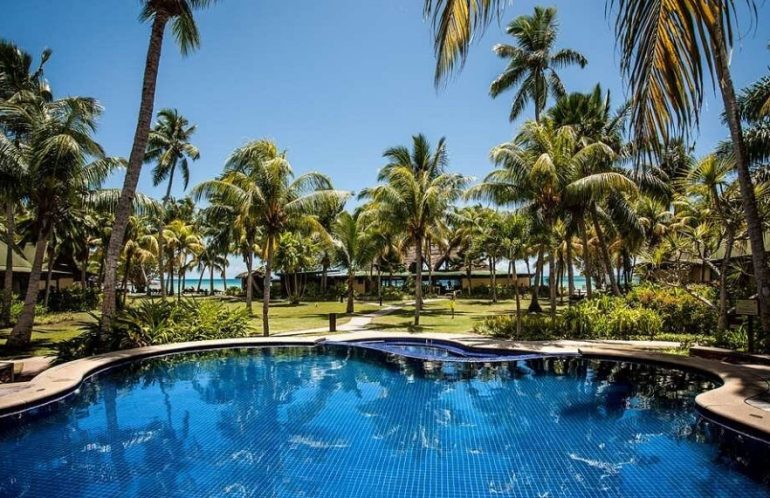 This hotel is located on the beach of Anse Volbert, one of Seychelles' most beautiful islands. You will be amazed by the views of green gardens beside the bungalows, and you will also get to enjoy the clear green water of the ocean as this hotel is located near the beach.
One night stay in this hotel and restaurant will cost you a minimum of 300 USD Dollars.
Residence Praslinoise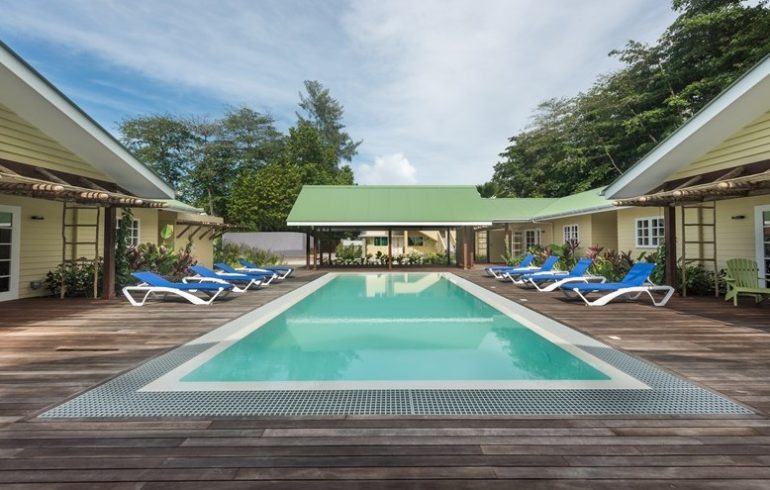 The price of one room for a night's stay starts from $157. Their service includes a pool, free Wi-Fi, air conditioning, a kitchen, and laundry. Residence Praslinoise is near the Grand Anse beach of Praslin island. It is a 7 min drive away from Praslin island.
Story Seychelles
It is considered to be a resort with great historical significance because of the architecture and heritage of this island. This hotel offers various kinds of suits with luxurious and royal facilities. The price of rooms for a one-night stay starts from $315.
If you are interested to know some of the Best Beaches in Seychelles, read this guide.
FAQ
1. Which part of Seychelles is best to stay in?
According to most people, Mahe is the best island in Seychelles if you want a vacation in Seychelles. Consisting of an area of 157.3 km, Mahe is the largest island of Seychelles and contains many scenic beaches.
The beaches of Mahe are best for various fun activities like scuba diving and swimming. You can also enjoy this tropical island's exotic scenery and the sunset's view.
2. Where do people stay in Seychelles?
Most of the people in Seychelles live on Mahe, this country's capital island. The world's smallest capital city, Victoria, is also situated in Mahe. As it is a capital island, naturally, there are more tourist facilities than on other islands; also, it is the center of cultural attraction in Seychelles.
3. Is Seychelles cheaper than Bali?
No, Seychelles is way more costly than Bali because of the diversity of islands and more popularity among celebrities. From the perspective of flight tickets, the expense of Bali or Seychelles depends on the country from where you will travel.
And about other living and food expenses, Seychelles has higher costs than Bali.
4. How many days do you need in Seychelles?
If you want to visit different Seychelles islands and cover all the sights of those islands, then 10 to 14 days is enough for you to stay in Seychelles. In this duration, you will have enough time to cover all the fun activities and sightseeing of all the beaches in the highest three islands.
5. What is the cheapest month to go to Seychelles?
The cheapest months to stay in Seychelles are the off-season months, May to September, because there are fewer tourists, so hotels and resorts provide discounts on accommodations.
Final Words
Finally, I hope you have decided on the best places to stay in Seychelles. As mentioned above, choose a hotel or resort that comfort your needs, don't choose a place according to popularity.