Fiji, Bora Bora, and Tahiti are dream destinations for travel lovers due to their scenic beauties, fabulous beaches, and excellent accommodations. However, if you know the key benefits of visiting these places, you must need clarification about which to choose among these fabulous travel destinations.
This comprehensive travel guide on Bora Bora vs. Fiji vs. Tahiti will let you know the key differences between these three famous travel places so that you can quickly choose based on your demand and budget.
Bora Bora vs. Fiji vs. Tahiti: Are They Equally Beautiful Places?
All three are fantastic vacation destinations for their spectacular scenery, dramatic mountain peaks, and fabulous turquoise lagoons. They must be on top of the perfect honeymoon places when gin-clear beach waters are your prime priority.
Fiji is a very popular island destination for its countless soft white sandy beaches that will give you a feel of an actual deserted island. There is no argument about the fact that Fiji, Tahiti, and Bora Bora have different significant attractions and cultural activities.
Still, depending on your taste, you must select one among them. If you are more into a luxury beachside resort, then Fiji is a better option than Bora Bora and Tahiti if you are into a luxury beachside resort. It has many outlying islands with super soft sand.
Tahiti offers tourists the best possible luxury vacation within numerous budget options. It has become famous as a vacation destination for many luxury overwater bungalows.
Tahiti is a fantastic place for its iconic wooden huts that are more numerous than in Fiji and Bora Bora. The tropical allure of Tahiti and its luxury resorts are enough to make your trip memorable.
When you are looking for a tropical island paradise, Bora Bora is also a great option. It has become a trendy destination worldwide due to specializing in upmarket resort holidays. The lagoons and scenery of Bora Bora are breathtakingly spectacular and seem better than Fiji and Tahiti.
However, a trip to Bora Bora is more expensive than Fiji and Tahiti as it is overbuilt and commercialized with many luxury resorts.
Bora Bora is undeniably spectacular for its sparkling blue lagoons and the beautiful palm trees lining the sandy beaches. Apart from viewing Bora Bora as a romantic destination, adventure lovers also explore it as its ideal condition for diving, snorkeling, kayaking, kite-surfing, and many other activities.
Bora Bora vs. Fiji vs. Tahiti: As Honeymoon Destinations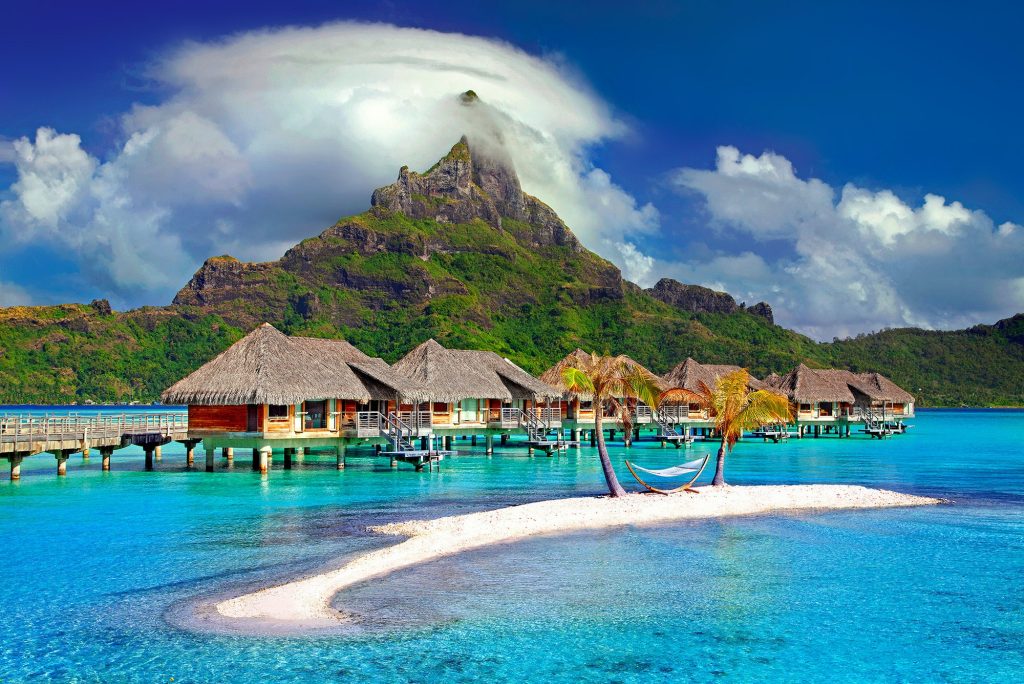 Bora Bora, Fiji, and Tahiti are excellent destinations for honeymooners. The splendid beauty of the pristine environment of these three islands has made them famous vacation destinations for honeymooners.
The dreamy beaches, tropical vegetation, and extraordinary marine life with super accommodations of these places are highly desirable to access.
The overwater villas of Bora Bora are accessible to adults only. Therefore, the honeymoon couple can fix to visit Bora Bora for a honeymoon trip. You will see the glass floors and marine life under your feet. The resorts of Bora Bora offer total privacy away from the shops and restaurants.
Fiji has many resorts to offer an adult-only experience. The honeymooners can rent or pick their island in Fiji, from smaller and very private resorts to luxury resorts. The smaller Fijian islands will give you the experience of impeccable marine life, untouched beaches, and authentic Fiji.
The honeymooners also come here to enjoy snorkeling, diving, swimming, fishing, spa treatments, and immersing themselves in Fijian culture.
Tahiti honeymoon partners can enjoy blissful cuisine, endless exciting activities, and heaven-like villas with coconut cream and lime juice. It has some great beaches but is less soft than Fiji or Bora Bora. However, you can get more budget options in Tahiti.
So, if you are looking for an iconic budget-friendly honeymoon destination, Tahiti is the best place to go.
What to Do in Bora Bora or Fiji or Tahiti
1. Tahiti
You will have lots of things to do in Tahiti that connect its visitors with other society islands. This vacation destination is famous for its black sand beaches. There are a great variety of things to do when it comes to cultural activities. If you visit during July, you will be able to enjoy an annual Heiva, a grand celebration of the local dance of Tahiti.
You can do snorkeling on the beaches of gin-clear waters. Tahiti also offers a wide variety of flora and fauna in its Botanical Gardens. You can also see arts and crafts if you visit the Papeete Market of Tahiti. Remember to visit Huahine Natural Aquarium too.
Visiting the three waterfalls on the northeastern part of Tahiti Nui can relax your body and mind. This place also offers a premium trip to adventurous tourists who can enjoy hiking to Aorai Mountain, the second tallest peak in the world.
2. Fiji
There are many beautiful beaches in Fiji where crystal clear water laps against the very soft sand. The beachside scenic beauty of Fiji makes it the perfect destination to relax with a glass of beer.
There are some famous snorkeling spots in Fiji. Away from viewing the beaches, there are many activities to do. This beautiful island has high mountains, rainforests, and hills, the most beautiful things to explore.
Related: Do You Need a Passport to Go to Fiji
The resorts of Fiji offer diving, fishing, swimming in the pool, exploring marine life, and many more. There are many colorful parrots or species within the beautiful forest backdrops. The panoramic views across Fiji will make your trip worthy at its maximum. Fiji has a fascinating heritage and culture.
You can rent your private villa on the beachfront and enjoy free water activities like diving, kayaking, snorkeling, etc. The adult-only resorts of Fiji offer luxury and relaxation that will let you feel like a celebrity.
3. Bora Bora
The main port of Bora Bora is Vaitape which is worth exploring for exclusive restaurants, shops, and bars. You can do many activities in the resorts of this place by maintaining privacy and seclusion.
Activities like snorkeling in the lagoon, scuba diving, and watching the sunset cruises on the reefs are common to the visitors of Bora Bora. Besides, explore the luxury overwater bungalows.
The colorful reef of Bora Bora is a fantastic snorkeling spot to enjoy rays, multi-colored fish, reef sharks, etc. The hikers can enjoy climbing Mt Otemanu, Bora Bora's highest peak.
A local guide will assist you to this old volcano and make it worth viewing. You can enjoy whale-watching activities if you travel to Bora Bora from June to November.
The Suitable Time to Visit Bora Bora or Fiji or Tahiti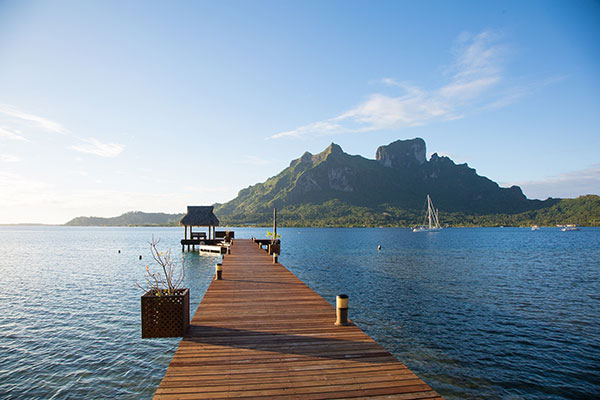 Bora Bora, Fiji, and Tahiti share similar weather throughout the year. Winter, which runs from May through November, is the busiest season to visit any of these islands. The temperature of this season ranges from 19°C-29°C. On the contrary, you can visit them when avoiding crowds is your priority.
Summer of the wet season from December to April is less busy when the temperature ranges from 22°C-33°C. The notable point is that Fiji and Tahiti get a similar fair share of rain with their lush rainforests and high verdant peaks.
Bora Bora receives around 1,900 mm of rainfall yearly, but Fiji has about 1,500 mm. So, Fiji's islands are usually dry and sunny throughout the year in most cases.
FAQs
Q: In which concern is Tahiti better than Fiji?
There is no doubt that both Tahiti and Fiji are breathtakingly beautiful vacation destinations. However, if you want to choose a place to enjoy the best scenic beauty or spectacular scenery, choose Tahiti over Fiji.
Q: How far is Fiji from Bora Bora?
Fiji is 2034 miles away from Bora Bora, and you can travel this distance from Nadi to Bora Bora. The journey time may vary depending on the day, weather, and airway conditions.
However, it usually takes less than 18 hours. The average price of the flight is 700 USD. Therefore, you can enjoy a relaxing flight to Bora Bora from Fiji since the distance is not that far.
Q: Which country is more budget-friendly for traveling between Bora Bora and Fiji?
Thousands of visitors go to Bora Bora to enjoy the radiant turquoise lagoon that makes it the beauty queen of the South Pacific. However, Fiji is also an island destination offering more things than a turquoise lagoon.
If you want to visit a place with a turquoise lagoon that brims with culture as well, pick Fiji over Bora Bora. Visiting Fiji is cheaper than Bora Bora too.
Bottom Line
Bora Bora, Fiji, and Tahiti- intrepid tourists can visit all three travel destinations, but they all are pretty different in terms of nature, accommodations, culture, facilities, etc. Therefore, making a proper decision among the three heaven-like islands will help you to taste the trip very finely.
As you have ideas about the beaches, available excursions, cultural differences, and accommodations of Bora Bora vs. Fiji vs. Tahiti, it will be easy to know what to expect in each of them and where to visit those islands.
However, if you have sufficient time and money, you are highly recommended to see all three island paradises.